Online Cybersecurity Degrees and Certificate
Give yourself the future you deserve. Now is the time.
Request More Information
Complete this form to receive information about coursework, admissions, tuition, and more.
100% Asynchronous Online Courses
Cyber Center of Excellence
4 In-Demand Major and Certificate Options
Transfer Up to 90 Credits
Make a Positive Impact by Protecting Valuable Data and Preventing Cyber Crime
Grow your problem-solving, leadership and technical skills with a cybersecurity program from The American Women's College of Bay Path University.
Our offerings include a suite of online BS in Cybersecurity degrees, plus an accelerated undergraduate certificate. Gain experience using the same cutting-edge approaches you'll encounter in the field to complete your coursework and make an immediate impact in the workplace by learning to secure and protect information assets. No experience is required.
Bay Path is designated by the National Security Agency (NSA) as a National Center of Academic Excellence in Cyber Defense.*
Our We Empower Learners and Leaders (WELL) program is built into every bachelor's degree.
Overall employment in computer and information technology occupations is projected to grow 15% through 2031.1
Global spending on information security and risk management is expected to increase 11.3%, reaching over $188.3 billion in 2023.2
Choose the Right Online Cybersecurity Program for You
We offer a range of online Bachelor's in Cybersecurity programs as well as a 15-credit certificate so you can find the option that matches your interests and career goals.
100% online | 120 credits | 6-week courses
Study the latest approaches to digital forensics and learn to detect, investigate and deter cybercrime.
Topic highlights: White-collar crime, forensic acquisition, network intrusions, mobile forensics, malware/phishing identification, insider threat
100% online | 120 credits | 6-week courses
Build skills to protect digital infrastructure and help organizations keep valuable information secure.
Topic highlights: Computer science, data privacy, cloud computing, Internet of Things, network security, programming, incident response
100% online | 120 credits | 6-week courses
Gain the expertise you need to identify, evaluate and manage threats to digital assets and implement effective risk management strategies.
Topic highlights: Data privacy, project management, crisis management, incident recovery, cyber governance, applied computing
100% online | 15 credits | 6-week courses
Whether you want to enhance your skills with a standalone credential or supplement your bachelor's degree with a targeted set of courses, you can master the fundamentals of digital forensics and explore the cybersecurity field with this certificate.
Topic highlights: Forensic acquisition, confidentiality, mobile technology, ethics, information assurance, cyber governance
About Us
It's your life story. TAWC supports you in unique ways, so you gain the confidence to step into the next chapter and the control to write your future the way you dreamt it would be.
Proven to help you succeed
Customizes lessons based on current knowledge
Delivers content based on your learning style
Experience in every degree program
Build key leadership traits
Gain leadership experience
Network with women executives
Become a leader others naturally trust
Lifetime Earnings by Education Level
Some College: $1.9 million
AS: $2 million
BA/BS: $2.8 million
Data from https://cengage.widen.net/.
We understand what it took for you to take this step forward, and we'll empower you every step of the way to keep going.
Request Info
Learn Online, Not Alone
At the heart of every learning experience, you'll find SOUL, our award-winning learning model that we created for your success. SOUL pairs you with an educator coach, a real person, to help prepare for your program. If you start to struggle, SOUL's analytics and predictive models alert them so they can reach out to help you before you fall behind.
Grow Your Tech Skills and Leadership Expertise
Our online cybersecurity programs focus on the tools and technologies you need as you begin your career. Explore topics like data privacy, risk management, and forensics while applying what you learn in real-world contexts. Small class sizes ensure personal attention from expert instructors.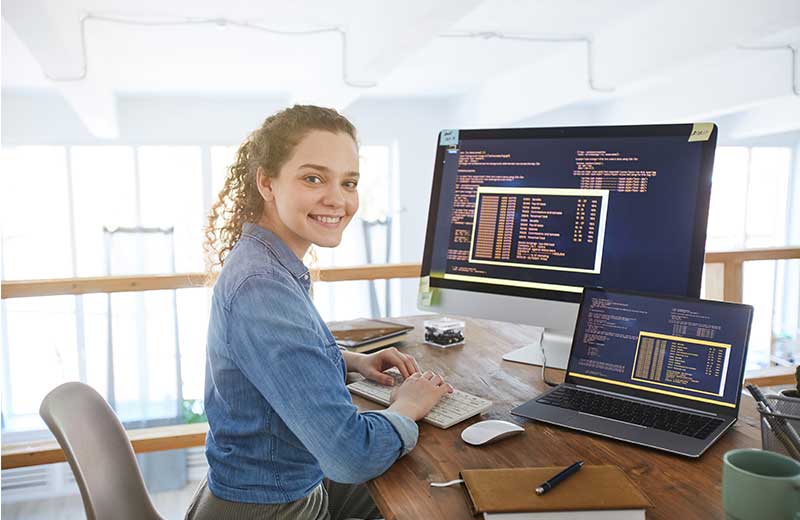 Open Doors to a Rewarding Cybersecurity Career
Cybersecurity professionals play an essential role in every industry by ensuring valuable digital assets are secure. Earning an undergraduate cybersecurity degree or certificate from The American Women's College means setting yourself up for a better future in lucrative, high-growth positions.
5 In-Demand Cybersecurity Jobs
Computer Security Specialist: $72,215 per year3
Digital Forensics Investigator: $67,846 per year3
Information Security Analyst: $102,600 per year1
Network Architect: $120,520 per year1
Risk Manager: $91,285 per year3
Sources and Disclaimer
https://www.bls.gov/
https://www.gartner.com/
https://www.payscale.com/
*NSA designation applies to the Digital Forensics and Incident Response major only.