Up to 90 Transfer Credits Accepted
5 Degree Options Available
Taught by Industry Experts
Inspire Young Learners
Transform your passion for learning into a rewarding career with an online undergrad education degree from The American Women's College of Bay Path University.
Courses are taught by expert faculty and can be completed in an online classroom designed for your convenience. Choose from five career-focused education degree programs and graduate with the skills to create a supportive and effective learning environment for children.
Our We Empower Learners and Leaders (WELL) program is built into every bachelor's degree.
More than 60,000 new positions for elementary school teachers alone are expected by 20311
The number of available preschool teaching positions is expected to grow by 15% through 20311
Discover the Right Online Education Degree for You
We offer a selection of five online education degree programs, including one associate and four bachelor's in education degrees.
100% online | 120 credits | 3.5 years
Gain foundational teaching skills for positions within preschool, day care, and public school settings.
Topic highlights: reading and early literacy, children's literature, behavior management within the classroom, effective methods for teaching children with diverse learning needs
100% online | 120 credits | 3.5 years
Choose elective courses based on your professional interests and prepare for graduate study, education career opportunities outside of the classroom, and more.
Topic highlights: classroom management, special education, curriculum development, children's literature
100% online** | 120 credits | 3.5 years
Gain the credentials required to become a licensed teacher in Massachusetts and go further in your career as an impactful educator.
Topic highlights: lesson planning, curriculum design, classroom management and engagement, educational technology, special education
100% online** | 120 credits | 3.5 years
Meet the requirements to become licensed by the Massachusetts Department of Elementary and Secondary Education and create an effective learning environment for your students.
Topic highlights: reading and language arts for elementary students, classroom management, reading for English language learners, world literature, global history
100% online | 60 credits | 2 years
Explore effective methods for supporting early childhood development in a variety of careers.
Topic highlights: effective teaching strategies, developmentally appropriate lesson planning, supporting children with disabilities
About Us
It's your life story. TAWC supports you in unique ways, so you gain the confidence to step into the next chapter and the control to write your future the way you dreamt it would be.
Proven to help you succeed
Customizes lessons based on current knowledge
Delivers content based on your learning style
Experience in every degree program
Build key leadership traits
Gain leadership experience
Network with women executives
Become a leader others naturally trust
Lifetime Earnings by Education Level
Some College: $1.9 million
AS: $2 million
BA/BS: $2.8 million
Data from https://cengage.widen.net/.
We understand what it took for you to take this step forward, and we'll empower you every step of the way to keep going.
Request Info
Learn Online, Not Alone
At the heart of every learning experience, you'll find SOUL, our award-winning learning model that we created for your success. SOUL pairs you with an educator coach, a real person, to help prepare for your program. If you start to struggle, SOUL's analytics and predictive models alert them so they can reach out to help you before you fall behind.
Courses that Deliver Effective Teaching Skills
With an accredited online education degree from The American Women's College of Bay Path University, you'll gain the credential and expertise required for the education career you want. Study a range of topics from classroom management, curriculum design, and early childhood teaching strategies.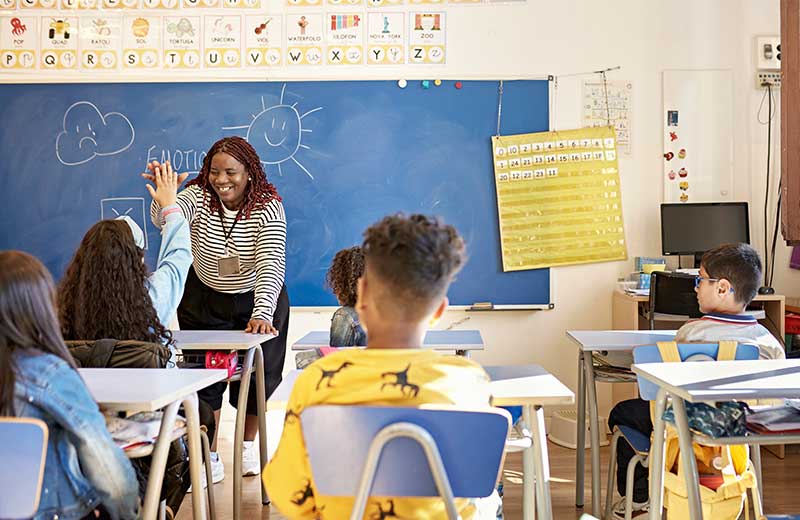 The Next Step in Your Education Career Begins Here
According to the Bureau of Labor Statistics, the education field is on track to create more than 658,000 new positions by 2031.1 Completing your associate or bachelor's in education degree online with The American Women's College will prepare you for a variety of in-demand teaching careers.
5 In-Demand Teaching Jobs
Preschool Teacher: $30,210 per year1
Childcare Center Director: $47,310 per year1
Special Education Teacher: $61,820 per year1
Elementary School Teacher: $61,350 per year1
Middle School Teacher: $61,3201
Source and Disclaimers
https://www.bls.gov/
*Our education licensure programs prepare for application for Massachusetts licensure. Applicants from other states will need to be informed that their state may have different requirements for licensure.
**Practicum courses meet live/synchronously (EDU348) state requirement.